Love Boosts Oxytocin & Higher Oxytocin
Equals More Youthful Skin
The Complete Approach to Skin Rejuvenation
Cutocin is the first skincare product designed to not only address skin rejuvenation with traditional ingredients, including anti-oxidants, peptides and retinol, but it also includes a patent-pending ingredient which has been shown to provide skin benefits similar to those induced by Oxytocin.  This first of its kind complete approach to skin rejuvenation produces unmatched results! 
Fragrance-free
Paraben-free
Gluten-free
No animal testing!
Made in the USA!
Study Shows Improvement Across Ages and Sun Exposure with Higher Oxytocin Levels
Featured in The Journal of Drugs in Dermatology
Featured in the prestigious Journal of Drugs and Dermatology, Dr. Hayre's ground breaking study related to the oxytocin effect on skin and aging revealed the higher oxytocin levels you have, the smoother, younger and brighter your skin will look regardless of age or sun exposure. The release of oxytocin directly correlates to a more youthful appearance.
Studies have shown oxytocin (OT) and its carrier protein neurophysin 1 are found in the epidermis. The oxytocin receptor, which is found on human fibroblasts has been shown, when activated by oxytocin, to inhibit senescence-associated secretory phenotype (SASP). SASP activation induces the release of proinflammatory cytokines which contribute to skin aging. Therefore, its inhibition by oxytocin would constitute a protective mechanism. This pilot study was designed to explore clinical evidence of oxytocin levels correlating to the skin's appearance in subjects.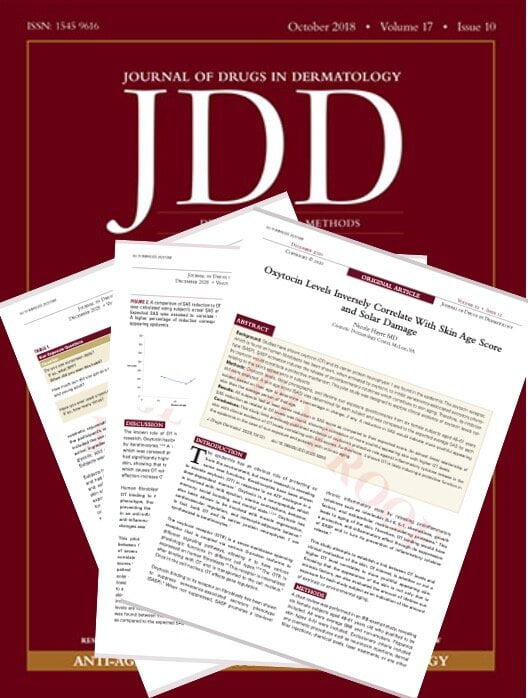 Oxytocin levels, facial photographs, and lifetime sun exposure questionnaires from six female subjects aged 48–61 years old were analyzed. A skin age score (SAS) was determined for each subject and was compared to the expected average SAS for each subject based on their age to determine a percentage in change, if any. A reduction in SAS would indicate more youthful appearing skin than the average person of that age.
All subjects had at least some reduction in SAS score as compared to their expected score. An almost linear relationship of SAS reduction as related to OT levels was found, showing a correlation of more youthful appearing skin with higher OT levels.
This study links previously published evidence of oxytocin's protective role against inflammatory cytokine release in the skin with clinical evidence of OT levels correlating with SAS scores. Furthermore, it shows OT is likely inducing a protective function in the epidermis in the case of sun exposure and possibly with intrinsic aging.